Shipping Policy
Schedule and Cost of Shipping
We make every effort to find the most economical means of shipping products to you, and we can ship to virtually any address in the United States, including Hawaii, Alaska, and US Territories. Note that some products (like rocket motors and some batteries) must be shipped by ground transportation only, so please allow sufficient time for your products to arrive.

When you place an order, the website estimates shipping and delivery cost for you based on the availability of your items and the shipping options you choose. Shipping estimates are just that--estimates--and we make every effort to ship your package as soon as possible, so it enters the mail stream as soon as possible. You'll never pay more than the shipping estimate, but if the estimate was too high, you'll see a refund. When you receive the shipment notification email, Rocketry Works has packaged your shipment (completely or in part, as indicated in the email), and has set it aside for the next carrier pickup. That is almost always the same day, though sometimes, orders packed late in the day will ship the following business day. Once we deliver the package to the carrier, the delivery schedule is out of our control, but you can be certain that the package was handed off to the carrier.

Please also note that the shipping rates for many items we sell are size and weight-based. To reflect the policies of the shipping companies we use, all weights will be rounded up to the next full pound. You can find the shipping costs by adding your destination city, state, and postal code in the shopping cart page. Sometimes, certain combinations of items in the same order can cause the software to make some odd estimates. When that happens, it's often true that a human can make a better decision about how to ship an order in the least expensive way. for example, shipping a 6 ft aluminum launch rail with a pack of igniters or a pack of motors will rate very expensive, when in reality a human would ship your rail separately from the motors, so you get the rail quickly, and the motors ship separately, because large, bulky things shipped via Ground turns out to be pretty expensive. Where we can save money on shipping, we will do so, and refund you the excess shipping cost.

You Pay Only the Cost of Shipping
At Rocketry Works, we don't make a living off of your shipping charges. We charge only what it costs us to ship your order to you. That's just the kind of straight forward company we are. So if your shipping cost seems high, don't worry. You'll see a refund if it costs less to ship your order than the website estimated. Websites, after all, are just software, and shipping is an area where a human can often outsmart the software when the order items are at the shipping station. You'll see this most often when orders contain heavy or bulky items in addition to special items like motors or igniters. Shipping estimation software can handle most use cases, but when orders get weird, you can count on humans better. If you have an questions during your order, feel free to give us a call, and we can give you a better estimate.
Damage in Transit
All shipments are registered FOB Origin, Freight Prepaid from Tucson, Arizona. That means that the customer pays for shipping before we process the order, and once the carrier receives your shipment, responsibility for the shipment is between the carrier and the customer. While we will work with you as best we can to help clarify and resolve shipping issues, you will need to be the one to file any claims with the carrier. From time to time, a package may be damaged in transit. If the damage extends to the contents of a package, or if the damage causes loss of contents, please contact Rocketry Works (shipping@rocketryworks.com), and we'll work with you to replace the damaged item(s) and recommend a course of action you can take with the carrier.
USPS for Lightweight Packages
You may choose the carrier and ship method during the checkout process to suit your budget and your schedule. Most small or lightweight products will likely ship cheaper via US Postal Service. Lightweight items--usually less than a pound, or items that can fit in a priority mail flat rate box--will ship cheapest via Priority Mail, which usually takes between 1 and 3 days. Priority Mail package to most metropolitan areas will likely take 2 days, while more rural areas usually take 3 days. The USPS does not guarantee delivery times, so USPS packages may take longer than these estimates.
FedEx for Heavy or Bulky Packages
Heavier or bulkier items will likely ship cheapest via FedEx, and delivery times are directly proportional to distance from Tucson, according to this FedEx delivery time map: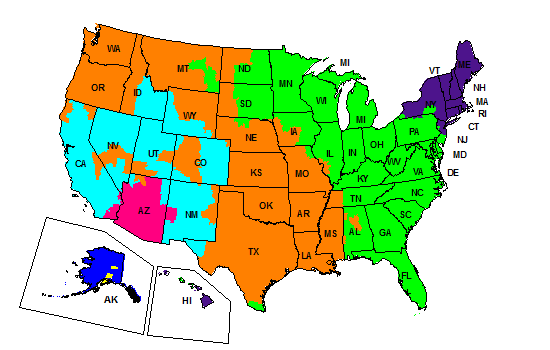 USPS Shippable Motors with 30 grams of Propellant or Less
Small motors with no more than 30 grams of propellant per grain, like Estes D motors and smaller, and many Aerotech single use motors into the F range, qualify for USPS Ground shipping. Rocket motors and igniters that qualify to ship via USPS Ground (formerly Parcel Post), may take 2 - 7 days to arrive, depending on the distance from Tucson, Arizona. USPS Ground packages can be delayed unexpectedly at a greater frequency and severity than Priority Mail or First Class packages, sometimes taking 2 weeks to arrive. USPS Ground shipments to Alaska, Hawaii, and US territories like Puerto Rico, USVI, and Guam can take longer, as ground shipments go by boat. Plan accordingly, particularly around launches or holidays. Note that many motor manufacturers have found clever ways for their larger motors to qualify for USPS shipping. Small single use motors, or reloadable motors with properly sized individual grains that are packaged separately can fall below the 30 gram limit, so you will see some reloadable motors up to J power that can ship USPS Ground. Every motor on the Rocketry Works website indicates whether it is USPS Shippable or HAZMAT only.
HAZMAT Shipping for Larger Motors
Rocketry Works no longer ships HAZMAT motors; they are available for local pickup only. This pertains to motors with more than 30 grams of propellant per grain. Some single use F motors, and all single use motors G power and up, as well as most reloadable motors from H power and up must ship HAZMAT. Every motor on the Rocketry Works website indicates whether it is USPS Shippable or HAZMAT only. Orders with HAZMAT motors that require shipping will be cancelled.
Free Shipping Offers
By default, any free shipping offers are for the least expensive ship method. If you need your order delivered by a faster method, free shipping will not apply. Some items--notably large items like launch pads--may not qualify for free shipping.
International Shipping
International shipping outside the United States is not supported at this time. Model rocket motors and igniters can not be shipped internationally.
Local Pickup or Launch Pickup
Rocketry Works is happy to waive shipping fees for orders picked up locally, either at Rocketry Works' facility, or at a launch listed in Rocketry Works' calendar. This is particularly cost effective for orders including HAZMAT motors. To waive shipping charges for local pickup orders, just choose the Local Pickup option at checkout. Orders placed before 6 pm the night before an in town launch will be ready the at the next day's launch. Out of town launches may have earlier deadlines. Local Pickup is a ship method available to customers in Arizona and New Mexico.